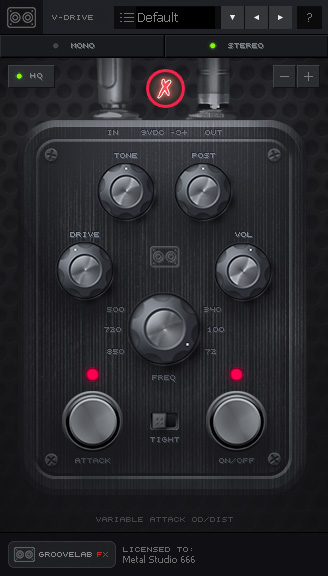 V-Drive v1.7 - Variable Attack Screamer
Emulates the response of a modded Tube Screamer pedal with it's broader range for tweaking, with additional attack features for tight tones. This virtual stomp will get the most out of your amps.
Fast engine for high quality live playing/recording, Mono/Stereo processing. Support for 10 internal presets and automation.
VST2
VST3
Win32
Win64
Win64bits
What's a fair price for you?
Important
When buying with Paypal, inform your purchase in an email to: [email protected] and you will receive a custom build and activation steps, making the custom build takes some time so a 24hs delay is expected. If you don't inform your purchase in 24hs, the download will be sent to your paypal address. Windows VST2/VST3 32 and 64bits support.
Demo Download
Coming soon