V-Drive v2.0 - Variable Attack Screamer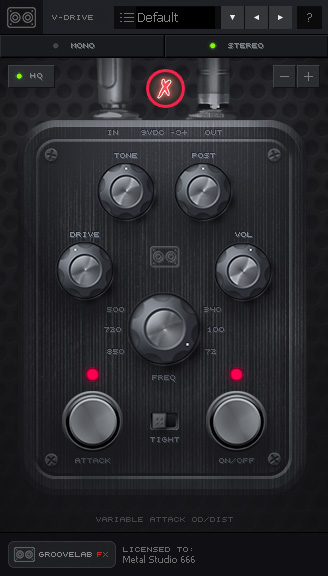 Emulates the response of a modded Tube Screamer pedal with it's broader range for tweaking, with additional attack features for tight tones. This virtual stomp will get the most out of your amps.
With a reworked engine for top perfomance, now including an even more aggresive variant, X-Drive.
Fast engine for high quality live playing/recording, Mono/Stereo processing. Support for 10 internal presets and automation.
VST2
VST3
Win32
Win64
Win64bits
Important
When buying with Paypal, inform your purchase in an email to: [email protected] and you will receive a custom build and activation steps, making the custom build takes some time so a 24hs delay is expected. If you don't inform your purchase in 24hs, the download will be sent to your paypal address. Windows VST2/VST3 32 and 64bits support.
Demo Download
Coming soon